The best place to download a driver is direct from the hardware manufacturer. Before you can update a driver, you'll need to find and download the latest version.
Drivers downloaded from the manufacturer will be the most tested and up to date available.
Every website is different so its hard to give precise instructions on how to navigate through a catalog of driver downloads but most support sites are fairly easy to use.
In helpdrivers.com you can find a direct link to the manufacturer's website.
Created in 2000
, HelpDrivers.com has 1,028,000, BIOS, manuals and utilities, the biggest collection to be found on the Internet.
Many belong to companies that have closed down or are obsolete products, and you won't find them anywhere else. If you don't want to waste time searching on the Internet for a file that is no longer available, place your trust in HelpDrivers.com
Service:
Helpdrivers.com, are offering a service to Internet users to download computer drivers, BIOS, manuals, etc. via download from the Internet.
It is understood that delivery will take place via download.
No physical medium (CD, etc.) will be sent.
These Terms and Conditions shall prevail over all other conditions.
Access to the service:
The download service is provided by Helpdrivers.com on a permanent basis, subject to maintenance operations, updates to the servers and unforeseen interruptions.
Conformity - Responsibility:
Available files are the original and official provided by the manufacturers.
The drivers and other files is considered as the application itself and all the files associated with it: installers, manuals, FAQs, etc.
All drivers, BIOS, manuals, and other files software is provided 'as is'. Helpdrivers makes no warranties, expressed or implied.
The user should ensure that the downloaded file will be compatible with his computer and the software installed on it.
Helpdrivers.com cannot be held liable for any incorrect use of any downloaded files or incompatibility with the customer's installed software.
This site not cannot be held liable for issues or faults that arise from the download or use of the software.
Perform a full backup of the files that you have on your computer to an external location
We recommend that you perform a full backup of the files that you have on your computer to an external location
, such as an external hard disk, DVD, CD, USB flash drive, or network folder. You can use the Backup and Restore Wizard to back up documents, pictures, and other files. For more information, visit the Microsoft Help and Support Center Web site.
If your computer is running Windows , we recommend that you create an Automated System Recovery (ASR) set before you start the installation.
Intellectual property:
In general, the customer undertakes not to modify or infringe the title, brand or intellectual property copyright associated with the downloaded files in any way whatsoever.
Protection of personal information:
You need not provide any personal information in order to access this website.
Please also visit our Privacy Policy section establishing the use, disclaimers, and limitations of liability governing the use of our website at
http://www.helpdrivers.com/Privacy_Policy/Contacting Us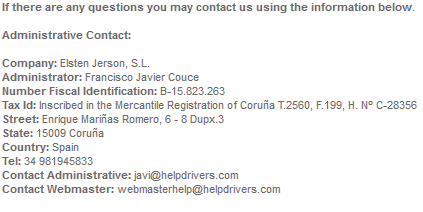 Términos de Uso
LEA ATENTAMENTE ESTOS TÉRMINOS Y CONDICIONES DE USO. EL USO DE ESTE SITIO WEB IMPLICA LA ACEPTACIÓN DE ESTOS TÉRMINOS Y CONDICIONES.
El uso y acceso de este sitio Web está sujeto a los siguientes términos y condiciones de uso y a todas las leyes aplicables. Estos términos y condiciones de uso podrán modificarse en cualquier momento sin previo aviso. Además, estos términos y condiciones se aplican exclusivamente a su acceso a este sitio Web y su uso, y no alterarán de manera alguna las disposiciones previstas en cualquier otro contrato que suscriba con Elsten Jerson, S.L. empresa constituida en Coruña, para productos, servicios o cualquier otra cuestión. La información proporcionada en este sitio se facilita gratuitamente con fines informativos exclusivamente y no implica ninguna relación comercial o de servicios profesionales entre Usted y helpdrivers.es o helpdrivers.com.
Copyright

A menos que se disponga lo contrario, todo el material del sitio Web, incluyendo, entre otros, cualquier texto, gráfico o archivo, así­ como la selección y diseño de los mismos, es propiedad de helpdrivers.es o helpdrivers.com y está salvaguardado por derechos de propiedad intelectual. Se permite hacer copias electrónicas o en papel de partes de este sitio Web para uso personal y con el único objetivo de utilizar el contenido para fines informativos y no comerciales. Se prohíbe terminantemente cualquier otro uso del material de este sitio Web, ya sea para uso comercial, para su reproducción con fines diferentes a los arriba mencionados, para su modificación, distribución, republicación, exhibición o representación, sin la autorización previa por escrito de helpdrivers.es o helpdrivers.com.
Aviso sobre derechos de autor
© 2018 helpdrivers.es o helpdrivers.com. Todos los derechos reservados.
Marcas comerciales
helpdrivers.es o helpdrivers.com, el logotipo de helpdrivers.es o helpdrivers.com y todos los gráficos personalizados, encabezados de páginas, iconos de botones, nombres de servicios y productos patentados, y su imagen comercial son marcas comerciales o marcas comerciales registradas de helpdrivers.es o helpdrivers.com En España y en otros paí­ses, y no se permite su uso, ya sea total o parcial, sin la autorización previa por escrito de helpdrivers.es o helpdrivers.com.